We are committed to provide
excellent customer service
to all our customers
because every window's an opportunity
Help protect your Staff from COVID-19 with Rollerscreen.
At Aquarius Interiors, we want to help in any way with the effort against COVID-19. This is why our team have started to produce protective, transparent screens to shield people while they're at work. As more businesses and shops begin to open up, it's understandable that people want to protect themselves and their team. This is why we offer rollerscreens are affordable, safe, and easy to install and use. The purpose of a rollerscreen is to allow someone to be able to work in a safe environment. The transparent screen allows people working at a shop till to interact with customers safely. Rollerscreens reduce the risk of catching COVID-19 for both staff and customers.
The transparent screen allows someone to deliver friendly customer service experience. Without putting anyone at risk. The rollerscreen works by preventing contagious droplets from coughs or sneezes spreading. It acts as a protective barrier. This is why they're effective against halting the spread of all viruses that are like COVID-19.
Why Install Rollerscreens?
Rollerscreens are ideal for a range of environments. This includes hardware stores, supermarkets, and pharmacies. Essentially, anywhere where there is an interaction between a team member and customer. For any business opening up following new guidelines, these protective screens will be essential.
A rollerscreen is easy to install. The screen is fixed to the ceiling and acts as a barrier the virus cannot get through. This doesn't mean the rollerscreen will be flimsy and unstable. Our team will offer guide wiring that provides extra rigidity to the screen, without losing any flexibility.
Of course, social distancing rules are still in place and we should all follow them. But, as more businesses open up, social distancing is going to become more challenging. Rollerscreens offer a practical and effective solution to this problem.Every business has a duty of care to the people it employs. With rollerscreens you can protect your staff and decrease the risk of them contracting COVID-19. Our rollerscreens don't only offer extra protection they also offer reassurance. They will show to both your customers and team, that you care about their safety.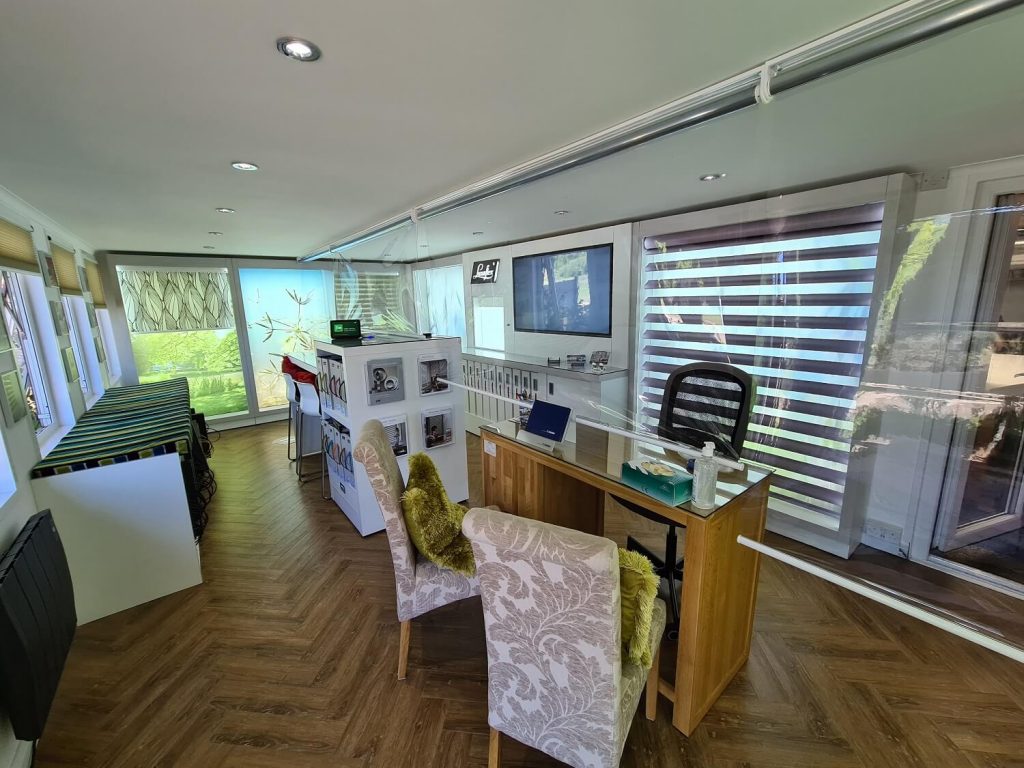 Whether it be an office boardroom through to a Dining room on a Cruise ship, Aquarius are there to help!
Benefits of Rollerscreens
All our rollerscreens are lightweight and easy to install in any business. All it takes is two people, a drill, and a couple of screws. After about ten minutes you will have a screen up that protects everyone who enters your property. Of course, it's important to remember that your rollerscreen needs to be cleaned regularly. If the rollerscreen blocks contagious droplets, the droplets will end up on the surface of the screen. This is why they will need cleaning, to ensure they're not contaminated.
The screen is made from clear plastic and plastic components that are simple to clean. You only need is a mild detergent diluted with warm water. But ensure you dry your rollerscreen after you've finished cleaning it. All our rollerscreens can be extended and retracted using a detachable handle. We can install our rollerscreens with different control options. Including chair or crank mechanisims. This is to provide you with even more protection and control with your rollerscreens.
If you want to ensure your rollerscreen fits perfectly, we offer a made to measure service, too. Our friendly and expert team will create a bespoke rollerscreen that fits all your requirements. To put protection in place for your business today, get in touch with our team to request a quote:
Contact Us Today
Give us a call on 024 7771 7517 or email INFO@AQUARIUSINTERIORS.CO.UK. Please feel free to fill in the enquiry form on our contact page today with any questions.